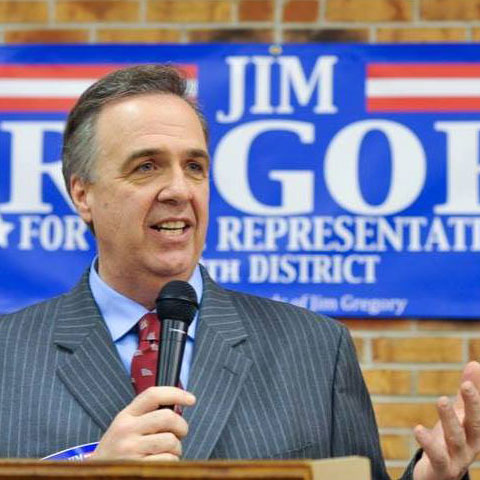 Jim Gregory
Party: Republican
Office: PA House ( District: 80 )
Candidate Bio
N/A
* All bios derived from candidates' websites.
Links
Quiz Results
How the candidate answered on the issues
Should businesses have the right to deny services based on the customer's sexual orientation/gender identity?
State / National
How should drug addiction - such as heroin addiction - be treated?
State / National
Additional Comments: This is my number one most passionate issue going to Harrisburg to make a difference as I have lived nine years in long-term sobriety and also lost a brother to an overdose 30 years ago. I have educated myself extensively on how we can address this very complex problem.
Should regulations be created to limit how prescription painkillers are prescribed?
State / National
What is your view on Climate Change?
State / National
Additional Comments: I have provided you my answer unfortunately I do not agree with the last statement that any changes we make will have little impact we can always make an impact.
Do you support net neutrality?
State / National
Candidate did not select one of the provided choices for this question.
Additional Comments: Everyone in our society today plays a role in how this problem can be solved no one is immune. Physicians must be responsible to adhere to the prescription drug monitoring program and check and register each prescription for every patient. We asked a lot of our physicians and it would be acceptable that we provide a new position in physician offices and hospitals or anywhere that pain medications or benzos are prescribed to make sure that the pdmp is checked for each patient before a prescription is given. I look forward to being able to share with you many more of the ideas and suggestions that I have accumulated over the course of many life experiences and conversations with the physician, insurance, rehab, law enforcement, and mental health communities.
Regarding gun laws, what generally do you support from the choices below?
State / National
Should we be more or less involved in helping to manage international affairs?
State / National
Candidate did not answer this question.
How should Pennsylvania regulate marijuana?
State
Additional Comments: State of Pennsylvania is going to spend hundreds of millions of dollars to fight the opiate addiction crisis while expanding another addiction in gambling to help pay for it. This is the hypocrisy of state government in Harrisburg that I hope I can change by virtue of my past experiences and how addictions are killing and destroying lives. The state of Pennsylvania needs to find ways to help grow business lower taxes and improve our quality of life with other ways than adding another drug or addiction.
Should the drawing of district lines be done by an independent system instead of state legislators?
State
Candidate did not select one of the provided choices for this question.
Additional Comments: I am very interested in this conversation but have not yet seen a single proposal that does not have some ties to political influence.
How should the general assembly balance the state budget?
State
Additional Comments: The people of my district tell me that they cannot afford any tax increases I represent the people of the 80th district and such I will work in Harrisburg to cut taxes and help the people of my district. We struggle with a governor who continues to avoid and actually flaunt the law by not signing a balanced budget for 3 straight years.
Should the minimum wage be raised?
State / National
Additional Comments: I understand there are areas of the state that need to have a minimum wage increase but we live in rural Pennsylvania where businesses struggle and as such we cannot keep pace with the amount increases being proposed. I look forward two working together
Back to Candidates